About writing Bad Order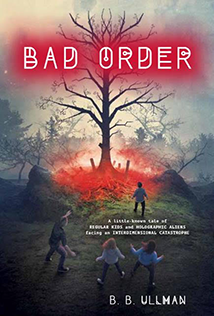 During the time I was writing this book, it seemed like there was so much bad news. People were doing and saying super mean things, and social media and Television seemed to be dishing up nothing but sour soundbites. It was sickening… it was like BAD ORDER. After reading my manuscript, my agent made the comment that the red spiders were loose in our country (that's what Albert called the negative forces—red spiders). But just like in the real world, my characters couldn't control the negativity seeping into the environment. Albert and Mary and Brit and Lars could only control their own thoughts (though just barely). And Mary came to realize how important the good stuff is—that beautiful thoughts can be as world-changing and pivotal as the meanest idea or the ugliest word. That was a nice thing to work on every day—getting my characters to choose the good stuff. Plus, it was super fun to write about conspiracy and danger and action!

Sterling Children's Publishing
Cover illustration by Shane Rebenschied.
Background art for this page is "Moon over Adeline" by B.B. Ullman.