Bad Order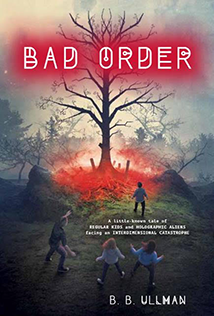 Thirteen-year-old Mary Day and kid-brother, Albert, have a unique relationship. Though Albert never speaks, he and Mary communicate very well through Albert's "memos" —telepathic messages that combine all the senses. One snowy day, Albert sends Mary an eerie, two-word memo that says, "bad order." When Mary and her best friend, Brit, and Brit's big brother, Lars, find a strange red mist in the woods, they experience what Bad Order feels like. A bizarre inter-dimensional rip is spewing terrifying thoughts into the world and the four friends barely escape with their sanity.
Soon after this, three odd visitors (claiming to be researchers) arrive to study the "anomaly." But where did these guys come from? —they don't look quite human! The leak is exploding, and the stuff drives people nuts. The weird researchers are being followed by Special Forces, and those Forces are coming to Mary's house. It's a race to stop the madness, but when negative thoughts threaten humanity, the biggest guns and smartest computers are useless. Here, hope lies in the strength and kindness of four friends.

Sterling Children's Publishing
Cover illustration by Shane Rebenschied.
Background art for this page is "Moon over Adeline" by B.B. Ullman.